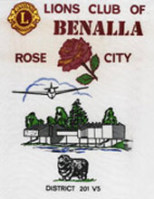 The Lions Club of Benalla was formed in late 1957 and received its Charter in March 1958. Also known as the City of Roses, due to the spring blooming of over 2000 rose species planted around the city.
Benalla is situated approximately 195 Kms (122Miles) north east of Victoria's capital city, Melbourne, and boasts many sites of interest within close proximity, among which are the State Gliding Centre, numerous wineries, lakes, the Weary Dunlop memorial and much more.
During the past 45 years the club has been actively involved in many worthwhile and interesting projects including construction of Youth Clubrooms, Kiosk, Shelters, School Camp, Street Seats, Carols By Candlelight, Christmas Cakes, Show gates, Race gates, Lion Mints, Youth Exchange, Driver Reviver, Monthly Car Boot Sale, Blue Light Disco and many more.
Some of our activities have been ongoing for over 30 years, like the provision of Street Seating begun in April 1958, Carols by Candlelight December 1962, Lion Mints 1960, the Street Caravan 1969 and Assisting in the upkeep of the 15 Mile Creek School Camp.
Along with the Lions Ladies Committee, the Benalla Lions Club disburses an average of $12,000 to local, national and international charities each year.
A current project that has been running since 2008 is the Car Boot Sale. Running every Lakeside Market. Contact Peter 0448 399 227
Contact Details
Graham Milner
Ph: 0417 367-020
email
:
benalla.vic@lions.org.au
Postal Address
PO Box 20
Benalla Victoria 3672
Site Address
Meetings of Benalla Lions Club
25 Arundel Street
Benalla, Victoria 3672
Operating Days & Times
Meetings:
When: - 6.30 pm for 7.00 pm Dinner - 1st & 3rd Thursday of the month.
Where: - Benalla Bowls Club, Arundel Street, Benalla VIC 3672 (03) 5762 2094...Unless advised otherwise.
February Activities:
23rd - Lakeside Market and Car Boot Sale
Contact:
President: Madeline Roff
Mobile: 0477 320 405
Email: madeline.roff@gmail.com
Secretary: David Lowing
Mobile: 0427 504 221
Email: benalla.vic@lions.org.au
Treasurer: Lester Watt
Mobile: 0438 624 424
Home: 03 5762 4424
Email: lesteraw@bigpond.com
Eligibility
Community members
Fees
Membership fees apply.
Age Ranges
18 years +
Wheelchair Access Provided
Yes
Other services Offered by Lions Club of Benalla Incorporated