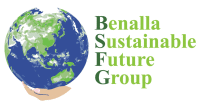 In August 2012, the incorporated association, Benalla and District Environment Group (BDEG) agreed to change its name to Benalla Sustainable Future Group (BSFG). An Environmental Advocacy Action Group will continue the work of BDEG.
Benalla Sustainable Future Group promotes a sustainable vision for Benalla:
Reduce the region's contribution to greenhouse gas emissions
Assist residents to respond to the changing world by using natural resources wisely
Reduce reliance on non-renewable sources of energy
Promote environmental awareness and responsibility
Protect, restore and rehabilitate the natural environment
Build and nurture a community in which relationships, social justice and creativity are highly valued.
Contact Details
Mr Peter Holmes
Ph: (03) 5768-2379
email
:
chrispeth@bigpond.com
website
:
http://www.bsfg.org.au/
Postal Address
PO Box 642
Benalla Victoria 3672
Site Address
Head Office
Uniting Church Meeting Room, Carrier Street
Benalla, Victoria 3672
Operating Days & Times
The Benalla Sustainable Future Group holds general meetings every second month in March, May, July, September and November. Meetings are normally held on the fourth Thursday of the month. Members are kept informed by email of meetings and other events. The group meets at 7:30pm in the meeting room at the Uniting Church in Carrier Street, Benalla (opposite Coles supermarket).
Eligibility
Anyone interested in development of a more sustainable lifestyle
Fees
No fees
Age Ranges
No age range
Wheelchair Access Provided
Yes
Other services Offered by Benalla Sustainable Future Group
Other Services at this Site
Environment and Conservation Action Groups
Sustainability
Environment and Conservation Action Groups
Sustainability