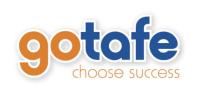 GOTAFE is one of the largest adult educational providers in North East Victoria, delivering vocational education and training to more than 17,000 students annually.
Our campuses are located in regional Victoria at Shepparton, Wangaratta, Seymour, Benalla, Terang, Warragul and Werribee. Activities are conducted locally, statewide, nationally and internationally. Education and training is delivered to the business sector, industry, community, local, state and national governments and to the non-profit sector.
GOTAFE offers flexible and creative training options to provide an outstanding service to students, employers and industry. We provide training on campus, off campus, online, in the workplace, or a mix of these delivery methods.
For course information please go to our website or call 1300 468 233.
Contact Details
Benalla Reception
Ph: (03) 5760-4507
email
:
enquiry@gotafe.vic.edu.au
website
:
http://www.gotafe.vic.edu.au
Postal Address
57 Samaria Road
Benalla Vic 3672
Site Address
Head Office
57 Samaria Road
Benalla, Victoria 3672
Operating Days & Times
8.30am to 5.00pm Monday to Friday
Eligibility
Determined on enquiry
Fees
Determined individually on enrolment
Age Ranges
17 years and over
Wheelchair Access Provided
Yes