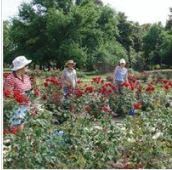 In 2001 a new committee group was formed to promote a comprehensive plan for the Benalla Gardens and Benalla Lake area (called the Crossing Place plan).
The Benalla Botanical Gardens Conservation Plan and the Riverine Trail and Waterway Management Plan, developed as a cohesive project, with the addition in time of a Heritage Walk. The Friends decided to incorporate the native bushland around Lake Benalla and upstream to the boundaries of the township into the area of its interest. To this effect, a name change was needed and the name 'The Friends of Benalla Botanical Gardens and Riverine Parkland' was adopted.
A subsequent project of replacement and renewal invigorated the Gardens landscape, providing convenient and enjoyable 'tourist friendly' areas. The Friends worked in partnership with Benalla Rural City Council to develop a brochure for the Gardens with a clear map and information about its history and highlights so that visitors are able to enjoy all that the Benalla Botanical Gardens has to offer. The work of the Friends is ongoing.
Other services Offered by Friends of the Benalla Botanical Gardens and Riverine Parkland
Other Services at this Site