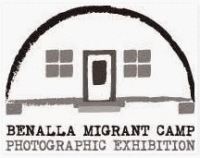 Photos and items tell the stories of the families who lived at the migrant camp during its years of operation 1949-1967 are displayed at BARC Hut 11.
Contact Details
Mrs Sabine Smyth
Ph: (03) 5762-6678
email
:
sabine.smyth@gmail.com
website
:
http://www.facebook.com/benallamigrantcampexhibition
social media
:
http://benallamigrantcampexhibition.blogspot.com
Postal Address
7 Mitchell Street
Benalla VIC 3672
Site Address
BARC Hut 11, Benalla Airport
Samaria Road
Benalla, Victoria 3672
Operating Days & Times
Please like us on Facebook and you will be reminded of open days, generally the fourth Sunday of the month.
Fees
$5 per adult, $2 Concession, Children free.
Special Group Openings by appointment (10 Minimum Number or $50 flat fee)
Age Ranges
The exhibition is fascinating for all ages.
Wheelchair Access Provided
Yes