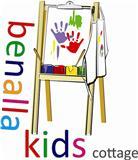 Benalla Kids Cottage has a funded combined 3-4 years old Kinder program. The Bachelor trained Kinder teacher will be in attendance each week day to allow working parents flexibility of days and hours for their child's preschool education prior to school.
Contact Details
The Centre Manager
Ph: (03) 5762-7677
email
:
benallakidscottage@dorraine.com.au
website
:
http://www.benallakids.com.au
Site Address
Child Care Centre
29 Bridge Street West
Benalla, Victoria 3672
Operating Days & Times
Our Kinder teacher will be working 5 days a week; running the Kinder program from 9am-3pm, allowing flexibility for parents to choose days for their child to attend the program and still meet the minimum 15 hours of a preschool program prior to school
Fees
Enquiries welcome
Age Ranges
Kinder program for ages 3 & 4 year old children.
This combined Kinder program allows 3 year old children to access the same amount of Kinder as 4 year olds; ultimately receiving 2 years of preschool.
Wheelchair Access Provided
No
Other services Offered by Dorraine Pty Ltd
Other Services at this Site