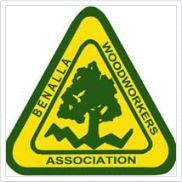 The Woodworker's Association (and Men's Shed) is located at the CAL Community Farm on Sydney Road Benalla.
Their motto is: "Get into wood, it's good."
We are looking for volunteers for a steering committee to restart the Men's Shed at CAL Farm. Is this for you? If so, contact Yooralla, 19 Bridge Street Benalla, on 03 5762 9000
Contact Details
Ms Jane Parris
Ph: (03) 5762-6912
email
:
janeparris@hotmail.com
social media
:
https://www.facebook.com/BenallaWoodworkersAssociation/
Postal Address
Site Address
CAL Community Farm
167 Sydney Road
Benalla, Victoria 3672
Operating Days & Times
Every Wednesday 9am to 12 noon
Every Thursday evening 7pm to 9pm
Every Sunday 9am to 12 noon.
Meeting and Demonstration - 4th Monday each month (except December) 7:30pm
Contact Graeme Dosser fon 03 5762 2691 or more information
Eligibility
All men interested in wood working
Wheelchair Access Provided
Yes