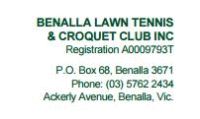 Golf Croquet is an enjoyable game involving strategy and skill. It can be played in pairs or as singles. Players use a mallet to hit balls through a series of hoops in order while opponents attempt to thwart them and score hoops themselves.
Contact Details
Mrs Debbie Hazell
Ph: 0407 506-328
email
:
benallacroquet@gmail.com
website
:
https://www.tennis.com.au/benallaltc/croquet
Site Address
Benalla Lawn Tennis & Croquet Club
9 Ackerly Avenue
Benalla, Victoria 3672
Operating Days & Times
Every Tuesday & Thursday morning 9.00am - 12.00
Saturday afternoon 1pm - 4pm
Eligibility
Visitors are always welcome. Some mallets are available for use. We run two Golf Social Days each year.
Fees
First 3 games free with some coaching.
$150 per annum
$2 per day.
Age Ranges
Appropriate for school age through to Seniors.
Wheelchair Access Provided
Yes