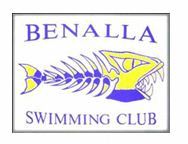 The Benalla Swimming Club, which was formed in 1950ís, provides an opportunity for swimmers of different ages and abilities to meet, train, socialise, and compete. It is recommended that new swimmers have completed Swim and Survive Level 5 or be YMCA Shark Squad competent.
Under the guidance of qualified coaches in a range of squads, swimmers have the opportunity to improve their stroke technique and their general fitness. In addition to this, there will be intra-club swimming events, designed around time trials, handicaps, and fun events, as well as regular social nights. The Club holds its Annual Presentation night at the end of the swimming season (end of March), where age group and other awards are presented.
The coaches also assist with training for competitive swimming. The Benalla Swimming Club is part of the Goulburn Valley and District Amateur Swimming Association (GVDASA or District 19, one of approximately 15 districts in rural and metropolitan Victoria, under the auspices of Swimming Victoria), and competitions occur at a variety of district swimming meets across the Goulburn Valley throughout the competitive season, which runs from about May to March.
Swimmers compete against other district swimmers from clubs in Shepparton, Kyabram, Cobram, and Mooroopna. Swimmers who perform well at these various events within their age group may achieve qualifying times for championships and like events that are held in Melbourne, or at one of the larger regional centres.
The Club also has available a range of Benalla Swimming Club clothing that has the Benalla logo and colours (blue and gold), such as swimming caps, shirts and jackets.
The club utilises its website as a key method of communication with its membership.
Contact Details
Mr Richard Mailer
Ph: 0429 177-044
email
:
benallagvsc@live.com.au
website
:
https://benalla.swimming.org.au/
social media
:
https://www.facebook.com/Benalla-Swimming-Club-217297598439433/
Site Address
Benalla Swimming Club
4 Mair Street
Benalla, Victoria 3672
Eligibility
All
Fees
To become a member of Benalla Swimming Club, you are required to register with Swimming Victoria. This is for insurance purpose, and there are several different categories.
Non-Swimmer
Recreational Swimmer - $100
Competitive Swimmer - $140
For those just starting we would recommend the Recreational membership, and for those competiting in competitive meets the competitive registration.
Wheelchair Access Provided
Yes