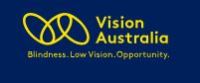 Vision Australia is the leading national provider of specialist vision loss services for people of all ages from childhood, moving into adulthood and into later years. Using the best access technology and equipment available, our OT's, Orthoptists, Mobility and Access Technology Specialists can help people who are blind or have low vision develop the right mix of services and support they need to achieve their goals in the areas of education and employment, independence and social inclusion, and a whole lot more.
Vision Australia is also the only national provider of Seeing Eye Dogs.
Contact Details
Ms Jenny Smith
Ph: (03) 5831-9400
email
:
Jenny.Smith@visionaustralia.org
website
:
https://www.visionaustralia.org/
Site Address
Shepparton Office
28 Channel Road
Shepparton, Victoria 3630
Operating Days & Times
Opening hours: 8:30am - 5pm Monday to Friday
Car Parking:
Plenty of parking onsite – 37 spaces.
Nearest Train Station: Shepparton Station – 3.2 km from office.
Other Public Transport:
Bus interchange located in Maude Street, Shepparton is 4 km from the Vision Australia office. Shepparton Transit Bus Route 5 – Shepparton to Archer. At Shepparton Railway Station - Bus Departs 3 minutes past the hour from 8am to 6pm and arrives at 17 mins past the hour at Vision Australia office.
Bus leaves Vision Australia office at 17 minutes past the hour and arrives at Shepparton Railway Station at 26 minutes past the hour.
The bus stop on Channel Road is located about 100 metres down the driveway from the road to the office.
Eligibility
Anyone who is blind or experiencing vision loss where regular glasses no longer work. Some people may be eligible for the NDIS, My Aged Care, DVA etc
Fees
Contact:
Client Liaison/Administration Support Officer:
Jenny Smith
Email: adminN3@visionaustralia.org or Jenny.Smith@visionaustralia.org
Phone: 03 5831 9400
Age Ranges
Whole of life from birth
Wheelchair Access Provided
Yes