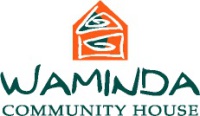 Learn how to make extra money with the skills you already possess!
Turn your hobby into an income, identify your marketable skills, develop confidence in your abilities, develop marketing networks and/or work effectively from home.
Contact Details
Ms Janet Symes
Ph: (03) 5762-4528
email
:
wwaminda@bigpond.net.au
social media
:
Contact Waminda for details or check Facebook for updates
Site Address
Waminda Community House
19 Ballantine Street
Benalla, Victoria 3672
Operating Days & Times
At NEA- 122 Bridge Street, Benalla.
Fridays during school terms.
9.30am - 11.30am.
Eligibility
18 years and Over
Fees
$ 50.00 Per person
$ 25.00 Concession
$ 20.00 Members
$ 5.00 annual membership fee.
Age Ranges
18 Years and Over
Wheelchair Access Provided
Yes
Other services Offered by Waminda Community House Inc
Other Services at this Site
Vocational Education & Training
Accessible Facilities Available
Mental Health Services
Child Care Services
Education Programs
Community and Neighbourhood Houses
Outdoor Recreation and Leisure
Immunisations
Aboriginal and Torres Strait Islander Community Health Services
Accessible Facilities Available
Community Health and Medical (Bulk Billing)
Volunteering Services