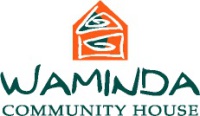 Supported Playgroup- for families/sole parents with pre-school aged children.
In Home support for eligible families.
Facilitated by Family Services, Benalla Rural City.
Eligibility -A family member must hold ONE of the following - A Commonwealth Pensioner Concession or Health Care Card, Refugee visa, Protection visa, Woman at risk visa (and others). In addition, the following families are also eligible - a family member who identifies as Aboriginal/Torres Strait Islander, children in kinship care arrangements, referrals from Child First or Child Protection,families referred/receiving Enhanced Maternal and Child Health Services.
Contact Details
Ms Janet Symes
Ph: (03) 5762-4528
email
:
wwaminda@bigpond.net.au
Postal Address
PO Box 585
Benalla Victoria 3671
Site Address
Waminda Community House
19 Ballintine Street
Benalla, Victoria 3672
Operating Days & Times
Thursdays- 10.00am - 12.00pm and 12.00pm-2.00pm during school terms.
Waminda Community House, 19 Ballintine St, Benalla.
Eligibility
Yes, see criteria in service description.
Fees
No cost.
Age Ranges
Parents with pre-school aged children.
Wheelchair Access Provided
Yes
Other services Offered by Waminda Inc
Other Services at this Site
Outdoor Recreation and Leisure
Vocational Education & Training
Personal Development Activities
Mental Health Services
Youth Employment and Training
Community and Neighbourhood Houses
Outdoor Recreation and Leisure
Immunisations
Aboriginal and Torres Strait Islander Community Health Services
Accessible Facilities Available
Community Health and Medical (Bulk Billing)
Volunteering Services
Community Services and Clubs