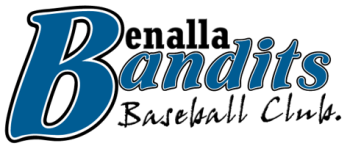 Contact Details
Craig Barry
Ph: 0419 364-412
email
:
benallabandits@gmail.com
social media
:
https://www.facebook.com/benallabandits/
Site Address
Benalla Sports and Equestrian Centre
5809 Midland Highway
Benalla, Victoria 3672
Operating Days & Times
For the year 2020 season game day is Sundays and the training is as follows:
Juniors Tuesdays 5:00pm to 6:30pm
Seniors Wednesdays 6:00pm to 8:30pm
We play other clubs in the Northern District League which Wangaratta, Albury, Wodonga and Porepunkah
Eligibility
All welcome
Fees
Our fees consist of two compartments. One is the insurance paid directly to Baseball Victoria and Baseball Australia and the other is the club fee. Through fundraising we try our best to keep the club fee low.
Age Ranges
We cover from Primary school children to seniors. Weather you are 6 or 86 everyone is welcome.
Wheelchair Access Provided
No