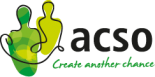 Welcome to ACSO Connect, your new front door access into alcohol and other drugs (AOD) community based non-residential treatment services.
Itís our role to:
* Conduct intake and assessment into selected AOD treatment services in Regional Victoria.
* Support you or someone you know to access treatment services once you have been deemed eligible,
or to refer you to another appropriate service.
- Treatment options include care & recovery coordination, counselling and withdrawal.
* Keep in contact with you while you are waiting for services to ensure you are getting the help you need.
To receive AOD community based non-residential treatment services, you or some you know need to demonstrate serious issues arising from your use of alcohol or other drugs including:
* Being at risk of long term harm or impairment, and
* not able to be assisted by primary health care providers alone.
Contact Details
Consumer Intake Assessment Line
Ph: 1300 022-760
email
:
connect@acso.org.au
website
:
http://www.acso.org.au
social media
:
https://www.facebook.com/ACSOau
Postal Address
40-42 Rowan Street
Wangaratta 3677
Site Address
Wangaratta Office
40-42 Rowan Street
Wangaratta, Victoria 3677
Operating Days & Times
Call our AOD Treatment Services Intake & Assessment Line 1300 022 760
Monday to Friday - 9am to 5pm
You can also contact Directline on 1800 888 236 for information & out of hours support.
Eligibility
Who are these services targeted at? If you or someone you know needs support with an alcohol or drug concern, we will conduct an assessment to find out more about your needs and in order to determine access to alcohol and other drug treatment services.
Fees
Please discuss with the Consumer Intake Assessment Line when you call us.
Wheelchair Access Provided
Yes
Other services Offered by ACSO CONNECT
Other Services at this Site
Mental Health Services
Suicide and Self Harm