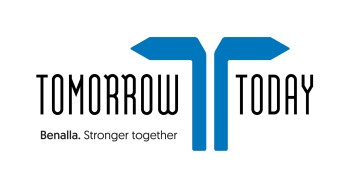 Reading Buddies matches a trained community volunteer one to one with children in the early years of schooling to help improve their reading and literacy levels.
Contact Details
Cathy Hair
Ph: (03) 5762-1211
email
:
cathyhair@tomorrowtoday.com.au
website
:
http://www.tomorrowtoday.com.au
social media
:
https://www.facebook.com/TomorrowTodayAU/
Postal Address
Shop 10
66 Nunn Street
Benalla Vic 3672
Site Address
Tomorrow Today
Shop 7A 66 Nunn Street
Benalla, Victoria 3672
Operating Days & Times
Mornings of School Terms.
Eligibility
Working With Children Check (we can assist you with obtaining this) and completion of 2 hour training.
Fees
Free
Age Ranges
Primary School children in Years 1 and 2
Wheelchair Access Provided
No
Other services Offered by Tomorrow Today Foundation
Other Services at this Site
Mentoring
Volunteering Services