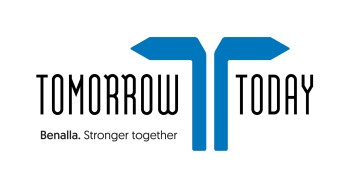 Tomorrow Today is Benalla's independent community foundation. We connect people, resources and ideas to create a bright future for our great rural community.
We believe that everyone should have the chance to thrive - and that education is the answer. Working together with families, schools and the community, we are leading a project to ensure all of our children and young people can achieve their potential in school, work and life.
Local people are able to help shape our community's future by donating time, money and skills through a trusted local organisation, dedicated to responding to local needs.
Contact Details
Rosie Koop
Ph: (03) 5762-1211
email
:
rosiekoop@tomorrowtoday.com.au
website
:
http://www.tomorrowtoday.com.au
Postal Address
Shop 10
66 Nunn Street
Benalla Vic 3672
Site Address
Tomorrow Today
Shop 10 66 Nunn Street
Benalla, Victoria 3672
Fees
9am-5pm Monday to Friday
Wheelchair Access Provided
No
Other services Offered by Tomorrow Today Foundation
Other Services at this Site
Community Information and Referral Services