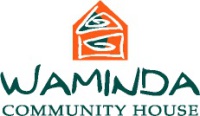 Free general check up by a doctor or nurse who are on site at Waminda House every Tuesday fortnight. Also suitable for mental health/psychological needs.
A doctor and nurse are on site.
No appointment required.
Contact Details
Ms Sherileigh Dowell
Ph: (03) 5762-4528
email
:
wwaminda@bigpond.net.au
social media
:
Contact Waminda for details or check Facebook for updates
Site Address
Waminda Community House
19 Ballintine Street
Benalla, Victoria 3672
Operating Days & Times
Tuesdays Every two weeks
10.30am to 3.30pm.
Eligibility
Aboriginal and Torres Strait Islanders
Fees
Free
Age Ranges
All Ages
Wheelchair Access Provided
Yes
Other services Offered by Waminda Inc
Other Services at this Site
Outdoor Recreation and Leisure
Vocational Education & Training
Personal Development Activities
Mental Health Services
Child Care Services
Youth Employment and Training
Community and Neighbourhood Houses
Outdoor Recreation and Leisure
Immunisations
Accessible Facilities Available
Community Health and Medical (Bulk Billing)
Volunteering Services
Community Services and Clubs