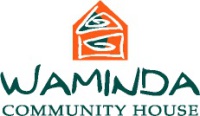 Wednesdays@Waminda offers after school activities for young people aged 7 to 17 years.
Activities vary each week and include art, cooking, gardening, craft, music and games days in a safe and fun environment.
Every Wednesday during school terms from 3.30-5.00pm.
Contact Details
Ms Janet Symes
Ph: 03 5762 4528
email
:
wwaminda@bigpond.net.au
Site Address
Waminda Community House
19 Ballintine Street
Benalla, Victoria 3672
Operating Days & Times
Wednesdays - 3.30pm - 5.00pm.
Fees
Free
Age Ranges
7 to 17 years of age.
Wheelchair Access Provided
Yes
Other services Offered by Waminda Inc
Other Services at this Site
Outdoor Recreation and Leisure
Vocational Education & Training
Mental Health Services
Child Care Services
Youth Employment and Training
Community and Neighbourhood Houses
Outdoor Recreation and Leisure
Immunisations
Aboriginal and Torres Strait Islander Community Health Services
Accessible Facilities Available
Community Health and Medical (Bulk Billing)
Volunteering Services
Community Services and Clubs