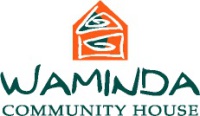 Pro You- Skill up for Life (Pilot program)
Youth Development Program - 16-24 years.
Free training opportunities to help develop skills to support with life and work.
Short training courses including First Aid, Responsible Service of Alcohol and barista training available. Young people will also learn about mental health and wellbeing, financial safety, and be shown how to cook simple and nutritious meals in a casual setting.
Limited spaces available.
Contact Details
Ms Janet Symes
Ph: 03 5762 4528
email
:
wwaminda@bigpond.net.au
Site Address
Waminda Community House
19 Ballintine Street
Benalla, Victoria 3672
Operating Days & Times
Wednesdays/Thursdays at Waminda Community House.
11.00am-2.00pm (varies depending on training days)
Fees
No cost to eligible participants.
Age Ranges
16 - 24 years.
Wheelchair Access Provided
Yes
Other services Offered by Waminda Inc
Other Services at this Site
Outdoor Recreation and Leisure
Vocational Education & Training
Personal Development Activities
Mental Health Services
Child Care Services
Community and Neighbourhood Houses
Outdoor Recreation and Leisure
Immunisations
Aboriginal and Torres Strait Islander Community Health Services
Accessible Facilities Available
Community Health and Medical (Bulk Billing)
Volunteering Services
Community Services and Clubs