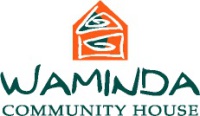 Get free help with your tax return from a Tax Help volunteer at Waminda House.
Proof of Identity documents will be required.
Contact Details
Ms Janet Symes
Ph: (03) 5762-4528
email
:
wwaminda@bigpond.net.au
Site Address
Waminda Community House
19 Ballintine Street
Benalla, Victoria 3672
Operating Days & Times
Tuesdays Between 9am - 3.00pm. Other days may be available on request.
Appointment required.
Available until October 31st, 2021.
Eligibility
Are your tax returns simple? Do you earn around $60,000 or less? If so our ATO trained Tax Help volunteer may be able to assist you to complete your tax return. Not available for business returns.
Fees
No cost.
Age Ranges
N/A
Wheelchair Access Provided
Yes
Other services Offered by Waminda Inc
Other Services at this Site
Outdoor Recreation and Leisure
Vocational Education & Training
Personal Development Activities
Mental Health Services
Child Care Services
Youth Employment and Training
Outdoor Recreation and Leisure
Immunisations
Aboriginal and Torres Strait Islander Community Health Services
Accessible Facilities Available
Community Health and Medical (Bulk Billing)
Volunteering Services
Community Services and Clubs