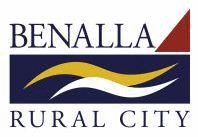 The Council is inviting young people, in Year 9 and Year 10 in 2019, to join its Benalla Live4Life Youth Crew. The Live4Life Benalla Youth Crew is part of a community-based pilot program designed to boost young people's participation to support at improving mental health literacy and encouraging help seeking behaviours.
Benalla Rural City Council is one of two rural communities selected to pilot the Live4Life program in partnership with Youth Live4Life Inc. Youth Live4Life Inc. is a registered health promotion charity that was formed to broaden the reach of the Macedon Ranges Live4Life program. Live4Life is a rural mental health promotion program targeting people in year 8 and 11 as well as teachers, parents and community members across the municipality.
Benalla's Mayor, Cr Scott Upston said the Live4Life program involves a whole of community approach and it is great to see young people actively involved in the Benalla Live4Life launch event.
"To date the Benalla program has trained more than 360 students in teen mental health first aid and since the start of the program more than 90 adults have been trained in Youth Mental Health First aid." Partners in the Live4Life program include the schools, NE Tracks LLEN, Tomorrow Today Foundation, Vic Police, Benalla Health and Central Hume Primary Care Partnership, NESAY, NECAMHS and community members.
The Live4Life Benalla Partnership Group recruited five local community members in late 2016 to be trained as Youth and Teen Mental Health First Aid instructors to assist in delivering the program at Benalla P-12, FCJ College and the Benalla Flexible Learning Centre. The initiative encourages youth participation to help deliver the program messages. Throughout the year the Live4Life Crew will help coordinate and run two events for all year 8 students, including a competition with great prizes for winning entries. Young people who are passionate about helping our community learn more about youth mental health are encouraged to join the crew.
Contact Details
Youth Development Coordinator
Ph: (03) 5760-2600
email
:
council@benalla.vic.gov.au
website
:
http://www.benalla.vic.gov.au
Postal Address
PO Box 227
BENALLA VIC 3672
Site Address
Customer Service Centre
1 Bridge Street East
Benalla, Victoria 3672
Operating Days & Times
For further information about the Live4Life program or to receive an application for the Live4Life Benalla Youth Crew, please contact the Council on 5760 2600.
Age Ranges
Year 9 and Year 10 students.
Also targeting students in year 8 and 11 as well as teachers, parents and community members across the municipality.
Wheelchair Access Provided
Yes
Other services Offered by Benalla Rural City Council
Other Services at this Site
Community Information and Referral Services
Crisis and Emergency Services - All emergencies
Activities for Young People
Personal Development Activities
Volunteering Services
Mobility and Accessibility Maps
Aged and Disability Community Support
Crisis and Emergency Counselling and Intervention Services
Volunteering Services